Shares of Tesaro (TSRO) are currently in the red by 8% when looking at the three-year time frame after at one point rising nearly 250% in the first half of 2017. The stock has lost two-thirds of its value since my initial write-up was published.
With around 25% of the float being sold short, my goal is to determine if further downside is expected or finally we've reached an ideal entry point where future catalysts could inspire a much anticipated squeeze.
Chart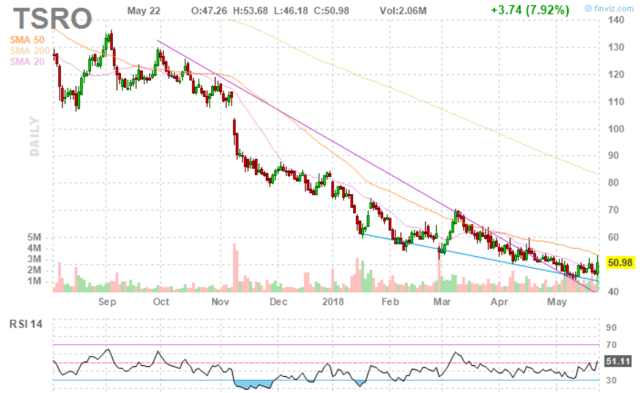 > Figure 1: TSRO daily advanced chart (source: Finviz)

>
Figure 2: TSRO 15-minute chart (source: Finviz)
When looking at charts, clarity often comes from taking a look at distinct time frames in order to determine important technical levels and get a feel for what is going on. In the first chart (daily advanced), we can see a high volume selloff in November of last year and continued downtrend in the stock price. In the 15-minute chart, we can see some decent buying volume potentially signifying the beginning of an attempted rebound as perhaps the stock has simply become too cheap.
Reader Inquiry
In the marketplace service ROTY (Runners of the Year), we search for stocks that are attractive across multiple time frames with potential for high % upside within the near to medium term. Catalyst ideas typically have upcoming material events (where we feel we have an edge with the outcome) while companies categorized as revaluation plays possess underappreciated assets, which should increasingly come into focus.
Late last week in ROTY, I published an update piece on an under the radar potential ASCO winner. A couple of days ago in the model account, we added to two key positions with catalysts coming up in the second half of the year.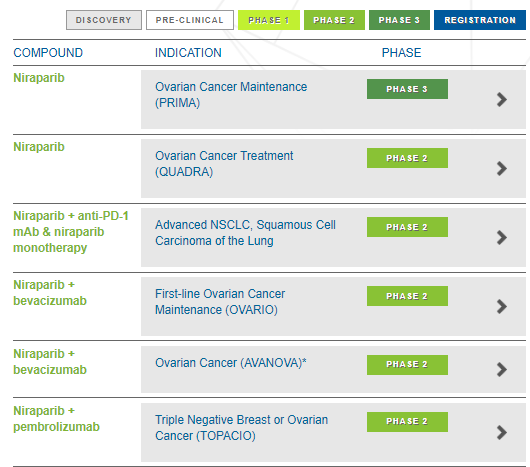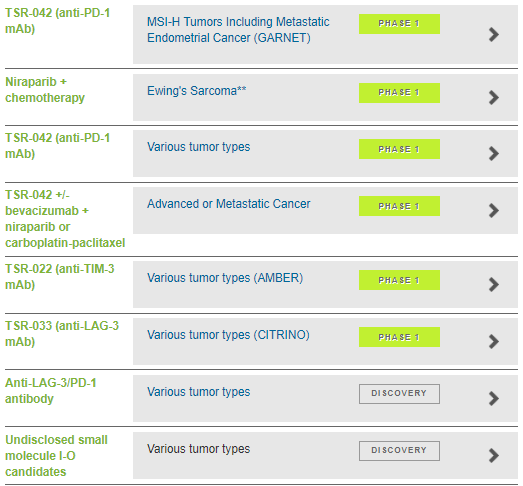 Figure 3: Pipeline (source: corporate website)
In the case of Tesaro, it's been fascinating to watch the stock rise to lofty highs as optimism peaked followed by a competition-inspired crash to perhaps unjustified lows (a prime example of Mr. Market swinging to both extremes). After coming across some chatter about possible M&A (likely without much substance), I wanted to see if there were more concrete catalysts that could lead to a rebound in the near term. At the same time, I'd be remiss if I didn't add that the jump could be related to unsubstantiated M&A rumors in which case a pullback could be just as likely.
Recent Developments
At the beginning of the year the stock saw some pressure in part due to concerns regarding the company's substance P/neurokinin receptor antagonist VARUBI, indicated for the prevention of delayed nausea and vomiting associated with chemotherapy in adults. This arose after reports came from the field of patients experiencing anaphylaxis, anaphylactic shock and other serious hypersensitivity reactions.
As a result, the company updated the package insert in collaboration with the FDA to modify the area of contaraindications, warnings, precautions and adverse events. While it's good that management was proactive, this has still decimated the outlook for this once promising treatment (and opened the path forward for another pick of mine, Heron Therapeutics).
In late February, the company announced a collaboration with Genentech to evaluate the combination of the PD-L1 antibody atezolizumab with ZEJULA in patients with metastatic bladder cancer. They will utilize Roche's (OTCQX:RHHBY) novel cancer immunotherapy development platform MORPHEUS, which was designed to speed up the development of cancer immunotherapies. The study is slated to get underway (conducted by Genentech) in the middle of the year.
Also in late February, the stock suffered a further decline after fourth quarter revenue of $48 million missed estimates by $7 million. At the time management guided for full year revenue in the range of $310 million to $345 million, while ZEJULA sales were predicted at $255 million to $275 million.
In late March, the stock experienced a significant rebound (which was short-lived) due to encouraging maturing data reported from the TOPACIO study evaluating niraparib in combination with an anti-PD-1 monoclonal antibody KEYTRUDA. The data was presented in a plenary session today at the 2018 Society for Gynecologic Oncology Annual Meeting on Women's Cancer.
President and COO Mary Lynne Hedley, Ph.D., made remarks that should be revisited (my emphasis in bold):
Patients with platinum-resistant or platinum-refractory ovarian cancer have limited treatment options available to them. Approximately 10,000 women in each of the US and EU begin treatment for platinum-resistant or refractory ovarian cancer each year. Preliminary results from TOPACIO

suggest the combination of niraparib and an anti-PD-1 antibody could provide meaningful clinical benefit to these patients, regardless of biomarker status. Planning of a registration study is underway to support approval of ZEJULA and TSR-042 combination therapy for these patients. TSR-042 is TESARO's anti-PD-1 antibody, which is currently in a registration study for MSI-H tumors.
If you take into account how badly off these patients were in terms of lack of options and low response rates to standard treatment, overall response rate of 25% and a disease control rate of 68% appeared somewhat impressive. Additionally, results acted as a feather in management's cap to show that they are in fact striving to execute even as the stock price failed to reflect those efforts.
April's news that competitor Clovis Oncology (CLVS) received approval for RUBRACA in the larger maintenance therapy setting also weighed on the stock, as it reminded Wall Street of pressure from other approved treatments and potential lack of perceived differentiation.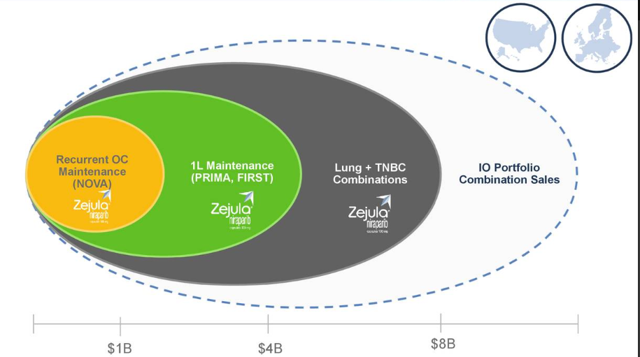 >
Figure 4: Longer-term target opportunities (source: corporate presentation)
While the competitive field appears full of PD-1 assets, early data from a Phase 1 study of Tesaro's own anti-PD-1 antibody TSR-042 in patients with microsatellite instability high endometrial cancer and non-small cell lung cancer did not disappoint. Overall response rate of 47% (including seven partial responders) compared favorably to data for Merck' s (MRK) KEYTRUDA in the same setting (36%, caveat for large difference in number of patients). Such news adds yet another value driver to this story, even if Wall Street fails to recognize it at this time.
Lastly, in April, the company also announced results from the QUADRA trial evaluating ZEJULA in heavily pre-treated patients with ovarian cancer. Keep in mind these were fourth-line patients (in addition to specific ovarian cancer patient populations) of which 92% were PARP inhibitor naive, 15% had a BRCA mutation and over two-thirds were platinum resistant/refractory. 63% of these patients had received bevacizumab.
In fourth and fifth-line HRD positive patients objective response rate was 29% with duration of response of 9.2 months. In patients fourth line or greater with BRCA mutations, ORR increased slightly to 31% with DOR of 9.4 months. In the second half of the year, management will be discussing a biomarker-focused regulatory strategy with the FDA which should lead to submission of supplemental NDA. The stock price didn't move much in response, but that could be due to the fact that this specific patient population represents a smaller opportunity.
Other Information
For the first quarter of 2018, the company reported cash and equivalents of $499 million, a decrease of $144 million from the prior quarter. Keep in mind that they intend to draw $200 million from their term loan facility in the second half of the year and finish 2018 with a balance of $400 million. Management is now guiding for Q2 ZEJULA revenue of $50 million to $55 million, with 2018 total net revenue and ZEJULA full year revenue estimates unchanged.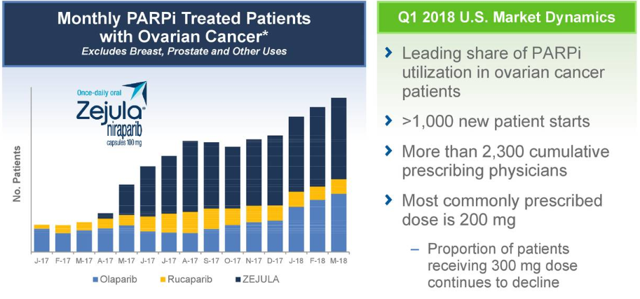 >
Figure 5: Increasing penetration of ovarian cancer market (source: corporate presentation)
Net loss rose by 19% to $162.8 million, SG&A increased by 35% due to increased headcount to support sales growth and launches, and R&D expenses rose by 31% to $96.8 million.
In terms of key upcoming catalysts, presentations at ASCO for both the ovarian and triple-negative breast cancer cohorts of the TOPACIO study should be interesting (both have been accepted for oral presentations). Farther out (late 2019), results from the PRIMA Phase 3 study should help expand the market for ZEJULA into the front-line setting should all go well.
The firm's immuno-oncology pipeline continues to fly under the radar and we can look forward to data from the AMBER study combining anti-TIM-3 antibody TSR-022 and their anti-PD-1 asset TSR-042 in tumor-specific expansion cohorts at a medical meeting in the second half of the year. The company will also be submitting a biologic license application for TSR-042 in patients with MSI-high tumors in 2019.
As for institutional investors of note, it's worth mentioning that NEA Management owns over 10 million shares. FMR and Wellington both own over 7 million shares.
While unsubstantiated buyout rumors have been floated of late, it wouldn't be far out of the realm of possibility for a larger company to scoop up Tesaro at its current valuation. I imagine after some larger acquisitions such as AveXis or Juno Therapeutics additional smaller bolt-on acquisitions could materialize as the year progresses.
Final Thoughts
For the contrarians and dumpster divers out there, the near term could be an ideal opportunity to scoop up shares. I prefer to find companies that will do well on their own and are also attractive to potential acquirers - Tesaro could fit this bill if it overcomes some key obstacles.
That said there are some central risks to keep in mind, including the possibility of further dilution at some point in the medium term (golden rule of biotech is raise funds when you can, not when you need them). Disappointing data for upcoming presentations at ASCO, readouts coming later in the year (including the PRIMA 3 readout) and clinical setbacks or continued safety concerns are also risks that could weigh on the stock if they come to pass. Competition continues to be a key overhang, as I believe there's still a perceived lack of differentiation between the three lead PARP assets even if they truly are distinct in certain ways.
While I won't be adding this one to the ROTY Contenders List currently (due to concerns mentioned above), I look forward to watching this one play out including their oral presentations coming up at ASCO and data for other lesser-followed drug candidates.
Keep in mind that when a stock is selected for ROTY, the corresponding article appears only to current subscribers, and for the purposes of due diligence, subscribers are able to access all of my archived work (getting around the 10-day paywall).
Disclaimer: Commentary presented is NOT individualized investment advice. Opinions offered here are NOT personalized recommendations. Readers are expected to do their own due diligence or consult an investment professional if needed prior to making trades. Strategies discussed should not be mistaken for recommendations, and past performance may not be indicative of future results. Although I do my best to present factual research, I do not in any way guarantee the accuracy of the information I post. I reserve the right to make investment decisions on behalf of myself and affiliates regarding any security without notification except where it is required by law. Keep in mind that any opinion or position disclosed on this platform is subject to change at any moment as the thesis evolves.

Investing in common stock can result in partial or total loss of capital.

In other words, readers are expected to form their own trading plan, do their own research and take responsibility for their own actions. If they are not able or willing to do so, better to buy index funds or find a thoroughly vetted fee-only financial advisor to handle your account. I am in a collaborative relationship with The Biotech Forum/Bret Jensen.
Disclosure: I/we have no positions in any stocks mentioned, and no plans to initiate any positions within the next 72 hours.
I wrote this article myself, and it expresses my own opinions. I am not receiving compensation for it (other than from Seeking Alpha). I have no business relationship with any company whose stock is mentioned in this article.
Source : https://seekingalpha.com/article/4176387-reader-inquiry-tesaro-finally-found-bottom
Thank You for Visiting My Website