Visitors Guide to Winston-Salem North Carolina
What do Krispy Kreme Donuts and Texas Pete's Hot Sauce have in common? They were both founded in Winston-Salem, North Carolina. According to Forbes, this area has the distinction of being one of the 14 Best Places to Travel in the USA in 2019. In the past, it has won awards for being the second most livable downtown in America, and one of the best ten places to retire in the United States. We hope that you love this
Visitors Guide to Winston-Salem North Carolina.
This historic city is the 5th largest city in North Carolina. It is an eclectic city nestled between the Smokies and the Blue Ridge Mountains to the west and the outer banks to the east. Salem was settled by Moravian Eastern Europeans who were known for their culture and arts. The town of Winston was home to many entrepreneurs. The two together equaled a thriving arts community. In 1880, the United States Post Office began referring to the two towns with a hyphen, and so it remains.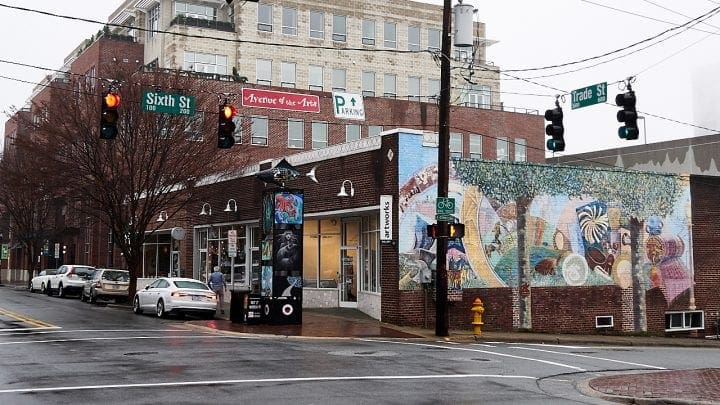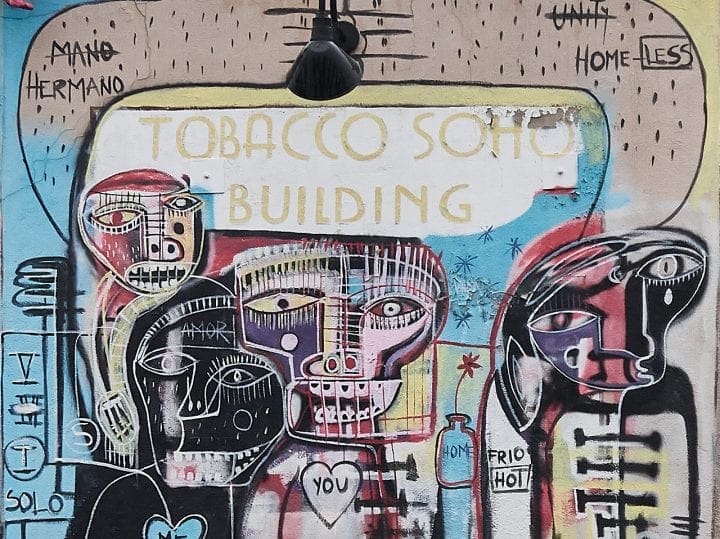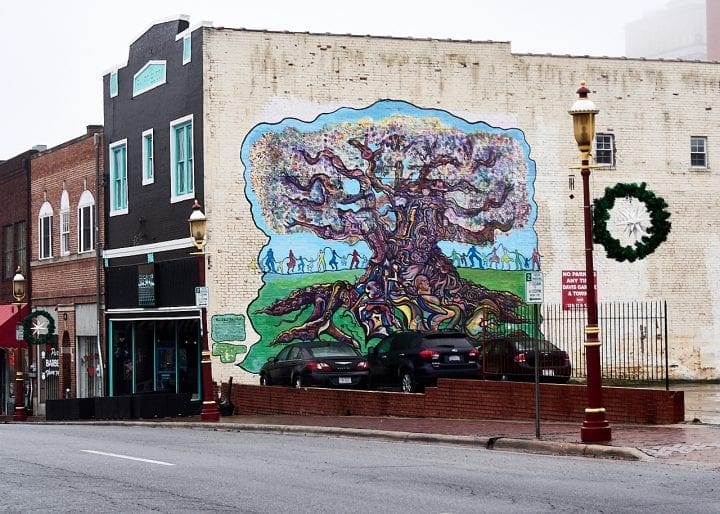 The Downtown Arts District Association showcases studios, galleries, shops, restaurants, bars and more between 5th, 7th and Trade Streets. Winston-Salem is called the "City of the Arts and Innovation", since the city is noted for its dedication to fine arts and theater, and technological research.
The North Carolina city got its claim to fame from the cigarette making at the R.J. Reynolds Company. Now, the former home of R.J. and Katharine Reynolds, the Reynolda House Museum of American Art, holds the most extensive collections of American art in the United States. For exquisite dining, visit The Katharine Brasserie and Bar where you will delight in part French and part Southern cuisine.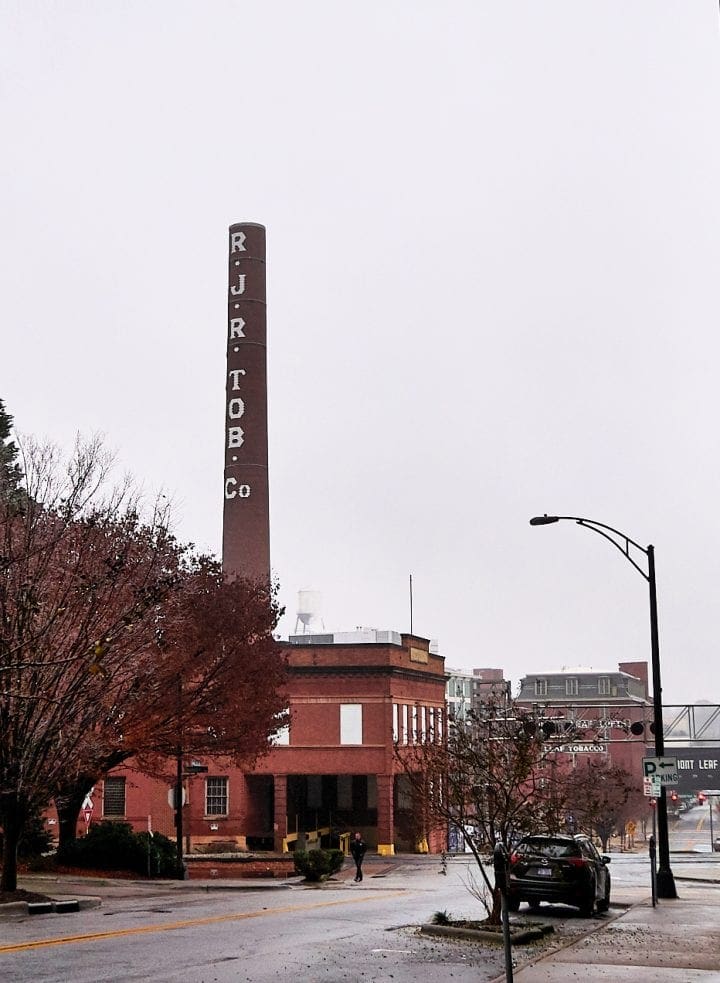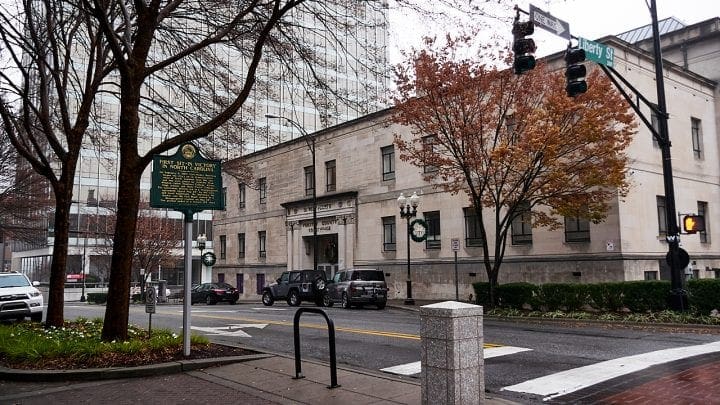 There are many restaurants with a variety of cuisines. The Spring House Restaurant, Kitchen and Bar is one of the few remaining mansions on what once was the Millionaire's Row. Here, you will be tempted by signature southern dishes served with a twist. Mozelle's Fresh Southern Bistro serves their special burgers like the Cuban or Mozelle's Pimento Cheeseburger. If you want to mix local art with great food, visit Mary's Gourmet Diner in the art district. For an indulgent experience, visit Black Mountain Chocolate where you can either go for a guided tour or watch the "visible factory" to see the handcrafted chocolates used for rich drinks, desserts and bonbons. If coffee is your favorite drink, Krankies Café and Coffee House is the place to go for good food, brunches and superb coffee.
You can sample fine wines from the famed Yadkin Valley at Sanders Ridge, Raffaldini Vineyards and Winery or Childress Vineyards (NASCAR team owner Richard Childress). If you are a wine connoisseur, a trip to Yadkin Valley Wineries, just west of the city, is an absolute must. Here you will find over 30 wineries. This area is currently known as the "hot spot" for wineries.
Lodging in the area is diverse. The newest luxury hotel is the Kimpton Cardinal Hotel which is housed in the historic R.J. Reynolds building (the prototype for the Empire State Building). It is very close to all the action, being near downtown's rich cultural and food venues.
No Visitors Guide to Winston-Salem North Carolina would be complete with a mention of Old Salem. History at it's finest can be viewed in Old Salem where you will see an actual restored Moravian settlement that was founded in 1766. Here the buildings have been historically and accurately restored. Everyone is dressed in period costumes, eager to answer questions and relate stories about the missionaries who settled in the area in the late 1700's. You will see woodworkers, potters, farmers and musicians all practicing traditional Moravian crafts. Stop by The Tavern for some Southern/Moravian comfort food served by a waitstaff clothed in historic Moravian clothing.
If you are lucky enough to be in Old Salem during the fall or winter, the Old Salem Christmas by Candlelight Guided Tours are a must see. The tours run from mid-November through a few days before Christmas. The ninety-minute experience is interactive when you grab an apron and a lantern and not only watch and listen, but help with the chores. You can help prepare some of the tasty baked treats (your reward comes at the end of the tour when you get to enjoy some of what you baked), and even help the potter glaze your own earthenware chocolate cup. You will be have a special chocolate drink served to you in the cup you get to keep. After your treats, you can help decorate the Putz and Pyramid tree. This event is fun for the whole family.
A trip to Kernersville is a delight. Pack a picnic lunch to enjoy at the huge Triad Park. Complete with many shelters and playgrounds, this beautiful wooded park will take your breath away. Then go on over to Korner's Folly. This beautiful 22 room mansion was built in 1880 and is now a museum. View the original furnishings and artwork in this home that once belonged to the artist and designer, Jule Korner.
For the outdoorsman, Pilot Mountain State Park in Hanging Rock offers something for everyone. Some of the adventures being offered are: hiking, camping, rock climbing, mountain biking, ziplining and even hot air balloon rides.
We've discussed the endless supply of historic, culinary, art and outdoor adventures that the city has to offer. An array of festivals and fairs also awaits the traveler. From Texas Pete's Spirits of the Summer to the Tanglewood Festival of Lights, the Piedmont Craftsmen's Fair to the National Black Theatre Festival, there's something of interest for everyone. There is even an air show and a wine festival. Not to be forgotten is the YMCA Mistletoe Run. This annual event, kicking off the holiday season, features a half marathon, a 5K run and a Fun Run.
With as much to see and experience as is evidenced above, there is little wonder why Winston-Salem is named as one of the best places to travel in the USA in 2019. We hope that your travels are inspired by this Visitors Guide to Winston-Salem North Carolina. Thanks for reading!
Get social with Winston-Salem
Visit their website  |  Facebook  |  Twitter  |  YouTube  |  Flickr
Travel, food, lodging and entertainment were provided by Visit Winston-Salem. We hope that you love this Visitors Guide to Winston-Salem North Carolina post.  All opinions are our own. 
Source : https://divinelifestyle.com/visitors-guide-to-winston-salem-north-carolina/
Thank You for Visiting My Website
Check Out Our New Products !