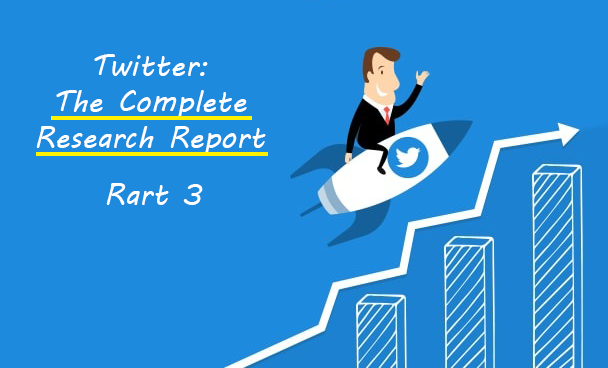 Welcome back. Since our last discussion on Twitter (NYSE:TWTR), nothing much has happened. Q1/2018 results were released, and the company also entered into a promising deal with Disney (NYSE:DIS) (and more).
In this part, we'll be assessing
Twitter's growth potential through facts. For that purpose, I collected a variety of visual evidence (graphs) that will lead us towards an objective conclusion. But before we get started, let's first set down the parts of this series (so far):
Part 1 (completed): "Barely A Social Media Company"
In Part 1, we defined Twitter's niche markets to be (a) aggregation of news and events, (b) hosting of public figures. Knowing which markets the company is trying to cover allowed us to determine its competitors at a per-niche basis (i.e. with precision). This was a very important step towards creating the proper tracking list at the end of this series.
Part 2 (completed): "Twitter's Systemic Risk"
In Part 2, we discussed Twitter's systemic risk. In order to be able and uncover this risk, we first analyzed and properly categorized the company's main product. Our objective was to understand why users are engaging with the platform (need or leisure) and what could also drive them away. Determining the systemic risk allowed us to acknowledge the type of competition that could kneel Twitter, no matter its financial position.
Part 3 (currently in progress):
In this part, we start by looking back at the "war" for a piece of the digital ad market that took place between Traditional Media (digitalized) and Social Media. This section is particularly important, because once social media won the war, digital websites had to evolve and create (expanded) a new market: The digital subscription market. One that is lucrative and can be tapped by companies like Twitter.
After that, we analyze the major revenue sources of social media and then move on by defining Twitter's stake in all this. By processing a collection of graphs that I carefully put together, we manage to ascertain Twitter's potential growth. We also determine that the company is the ideal partner for the growing subscriptions market.
Note: Inside the article, you will find certain numbers, ex. [
#4]. These numbers are linked to supplementary material at the end of the article, "The Owl of Wisdom". If you are interested in learning more about a particular subject that has a note attached to it, scroll to the bottom.
What's new?
When
Twitter announced its
Q1/18 results, increasing revenues and repeating quarterly profits were at the spotlight. What grabbed my attention, though, was the platform's international user growth rate. The graph below reveals steady gains: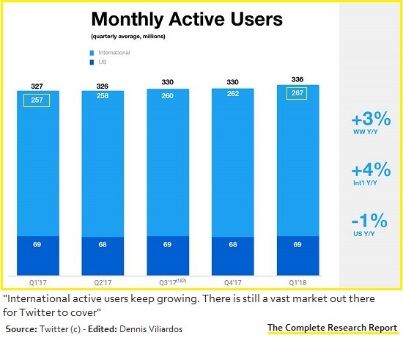 Most major U.S. based social media have more international users (active) than domestic ones. With Facebook (NASDAQ:FB) monopolizing the U.S., Twitter has to look for an alternative market. And although Europe and Asia are regions that generate fewer revenues per user, the vast population can make up for that [
#1].
Netflix
) is an example of a company that managed to expand into the international market and avoid an expensive domestic "spat".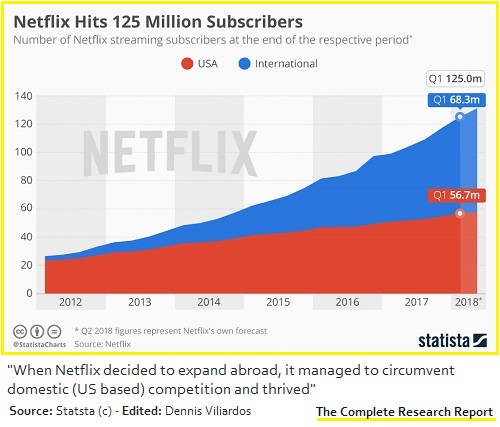 Within the United States, Netflix had to compete with Amazon Prime (NASDAQ:AMZN), Google's (NASDAQ:GOOG) (NASDAQ:GOOGL) YouTube streaming service and HBO (among others). To maintain its competitiveness, it would have to slash prices or invest heavily in new content. Abroad, though, most streaming services were still underdeveloped. Netflix saw an opening and took its chances.
Is Twitter following the same strategy? We'll have to observe and wait. The social media penetration rate outside the US is a lot lower, which means that new users can be added. Those users will most likely look for a "lighter" medium, and Twitter fits the profile. It might just become the preferred international medium, assuming that it can promote that trend.
Read also:
Andrew Left of Citron Research is not shorting Twitter anymore.
The war for digital ads
Digital ads are the lifeblood of social media. In the past, traditional media were enjoying this ever expanding revenue source. Businesses like the Financial Times (now owned by Nikkei Inc.) could generate professional content at a large scale and attract potential readers. The more the readers, the greater the revenues. Those were the simpler times.
Both "digitalized" traditional and social media belong to the broader category called "New Media" [
#2]. They share the same primary income source, ads. And this inevitably led to an all-out war. A war that was won by social media. But why?
Let us answer this question by addressing the traits (weapons) of these two new media industries:
Content: Traditional media generate professional content, which is inherently of higher value. It is the end product of research, writing, and editing combined. Social content on the other hand is raw in form and is therefore of lower value.
User data value: Websites like the Financial Times offer a particular target group to marketers, namely a group of people (its readers) that share a common interest (financial professional content). This data is rather broad for the contemporary advertising company. Social media on the other hand are "profiling" their users by collecting valuable interaction and reaction data. They have the ability, for example, to gather interaction/reaction data that relates to many traditional media sources (Financial Times, WSJ, Politico etc.) as well as to "social" content. Added to that is the in-store advertising platform each social medium has to offer. This platform allows for marketers to target user interests with great precision.
Advertising cost: From the advertisers' perspective, the cost is lower when utilizing the power of social media. Their platforms allow for options such as "pay per click/conversion". They are also greatly automated and are not prohibiting access to lower budget advertisers.
Based on these traits (weapons), one can clearly perceive the superiority of social media. The value of the content generated (professional content) is much less relevant to marketers who mostly seek to maximize their clients' returns (conversions).
But traditional media also lost ground to other companies like
Google. The tech giant operates the AdWords platform, which has earned acceptance among marketers. Having lost the war, traditional media had no other choice but to co-operate with digital tech companies. And as time passed, they started depending on them.
Nevertheless, traditional media continue to be displeased by these dependencies. When
Facebook decided to change its policy in relation to newsfeeds, reducing the ratio at which professional content appears on user "walls", frustration was evident. Professional content creators were disappointed, as they had already invested a lot of money into the platform. On another instance, the Wall Street Journal complained to Google when its website witnessed a 40% decline in search engine-related traffic.
To tackle these unhealthy dependencies, traditional media decided to push for more website subscriptions. A successful example of such a U-turn that allowed professional content creators to turn their backs to social media and other tech companies is that of The Guardian:
The Guardian today announces it now has 500,000 regular paying supporters - made up of members and subscribers in more than 100 countries who make regular financial contributions to the publication.

The Guardian has more than doubled its regular paying supporter base in the past 12 months. Approximately 80% of these supporters take digital subscriptions or memberships, with the remaining 20% subscribing to Guardian News and Media's (GNM) print publications.
The subscription market is booming. And social media could in theory benefit as well. In Part II of this series, we briefly mentioned Google's efforts to tap into it via its "Subscribe with Google" application. But traditional media will most likely try and avoid expanding their dependencies.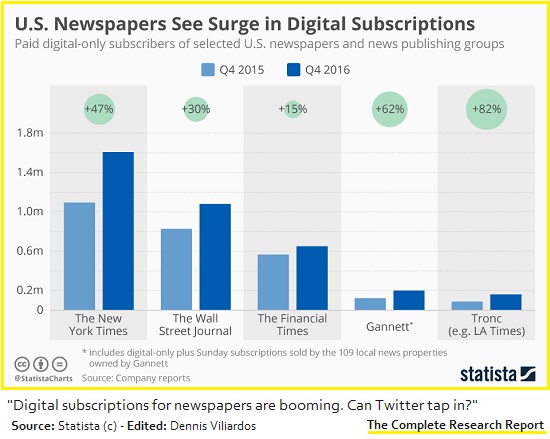 For Twitter, though, this can be a major opportunity. Traditional media are constantly looking for ways to diversify their relationship with social media and tech groups. Facebook covers their needs for a "social presence" and also offers "cheap promotion" within its network. Google on the other hand provides "search engine traffic" and allows for a "digital banner collaborative relationship". Naturally then, Twitter would be the ideal choice of traditional media for becoming their subscription market hub.
Jack Dorsey should not wait and make a move. There should already be a subscription management application on Twitter.
Major revenue sources
Since the end of the "war", social media managed to establish their position and thrive in the process. The major revenue sources they depend on for survival and continuing growth are listed below. Remember that a company must grow continuously, because investors might sell their shares when there is limited potential for capital gains.
(A) The digital ads market (revenue source)
Digital ads are by far the most important source of revenue for social media. Luckily, the market is expected to grow for years to come. This is particularly important for companies like Twitter, because it makes the business environment less competitive. If the company was operating within a shrinking (revenue) market, opportunities would have been fewer and survival, much harder.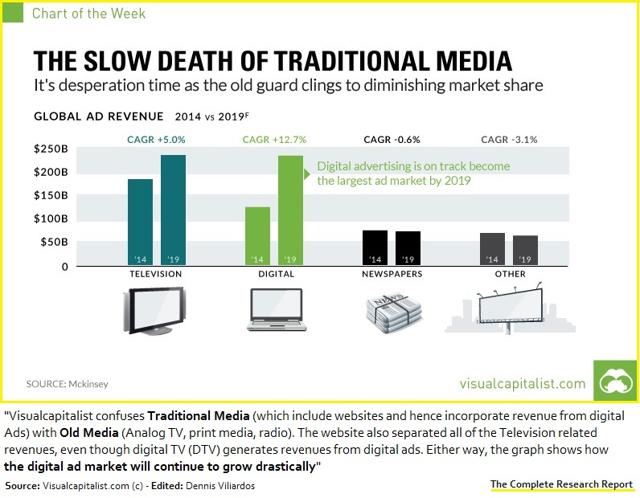 > The above graph from Visual-capitalist points out that Twitter is in the "right" business, being involved with a growing market. Old media on the other hand are mostly part of a shrinking market. Digital ads are the future, and Twitter is caught right in the middle of it.
The next step now would be to clarify what the potential growth for social media is. To do that, we need to unfold digital ads into their various types.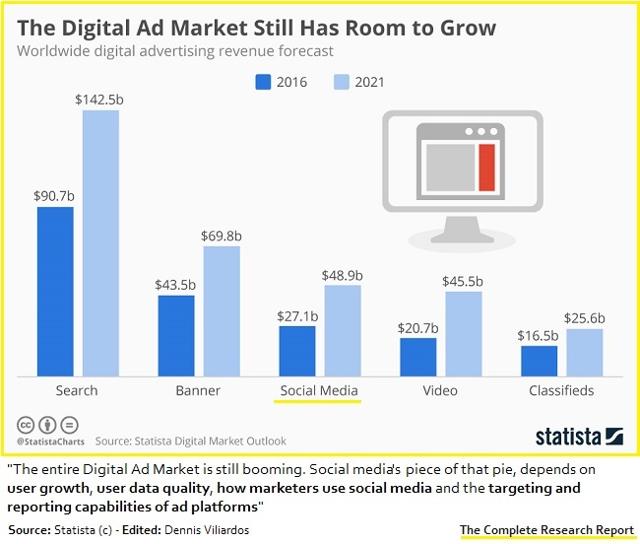 > Interestingly enough, social media are currently not the holders of the lion's share when it comes to the digital ads pie. But they are expected to have a growing appetite. Social media revenues will continue to grow (are involved with a growing market), but whether their piece of the digital ads pie expands or shrinks will depend on user growth, user data quality (the quality of the gathered reaction/interaction data), how marketers are using social media, and the targeting and reporting capabilities of their integrated ad platforms.
Let us briefly take a closer look at "how marketers are using social media".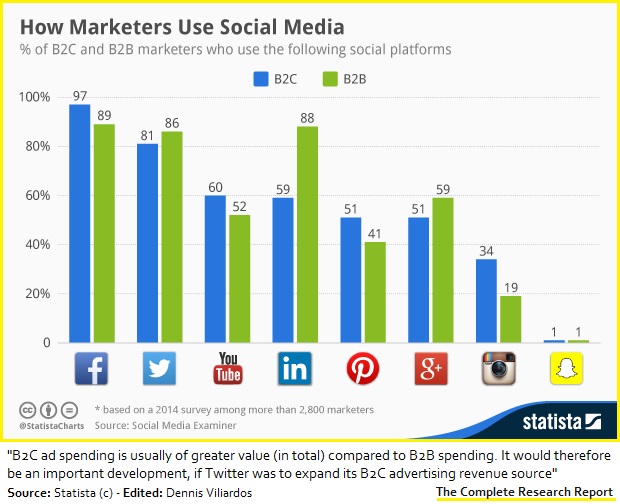 According to the graph, Twitter tends to primarily appeal to Business-to-Business (B2B) marketers. On the one hand, this is positive, because advertisers seem to consider Twitter users to be more "professional". On the other hand, though, the total B2B ad spending value is lower when compared to the total C2C ad spending value.
On a separate matter, we can once again see how Twitter and Google+ correlate, which is the reason I keep pointing out that Google would be the ideal buyer of Twitter. Or the ideal competitor.
(B)
The data re-selling market (revenue source)
For Facebook, data re-selling is an "indirect" business. Whenever a marketer puts up an ad, targeting options are being set up. Those options constitute an indirect sale of user data, which is priced into the ad's cost.
Twitter, on the other hand, is also "directly" re-selling user data (data licensing). We can look at it as if a marketer is buying the results of a research poll carried out by Twitter. The company collects user reaction data and organizes it into something meaningful or useful to marketers (a market research paper).
If Twitter manages to retain the right to re-sell data directly to third parties, it will pretty much be the only large social medium that generates direct market research information - the most valuable information an advertiser can hope for (i.e. knowing what their potential clients want and need).
(C)
The digital subscriptions market (potential revenue source)
Social media and other Silicon Valley tech stocks are at odds with traditional (digital) media. But, here, it is a chance for reconciliation: Growth in the digital subscriptions market is evident, a direct result of digital newspapers losing the war for digital ads.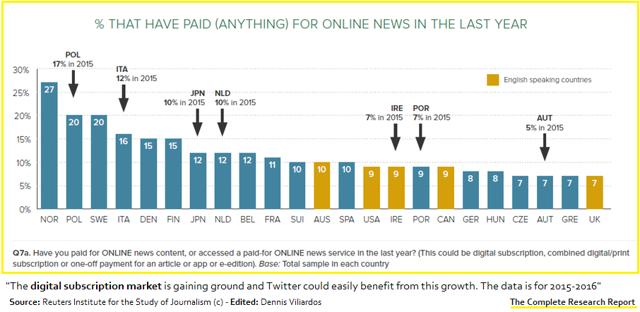 > Google has already made a move, linking its "Subscribe with Google" feature with additional search engine benefits. Social media such as Twitter have been slow to follow.
No one really knows whether the subscriptions market will become yet another source of revenue for social media. But whatever company manages to collaborate with traditional media in this field will not only gain access to big returns but also establish a strong relationship with them. After all, subscriptions are more and more becoming the life-blood of traditional media.
What is Twitter's actual growth potential?
The growing digital ad market grants Twitter a better chance of surviving and growing. In order for us to be able and ascertain the company's potential, we must first understand what "
piece of the pie" the platform is eligible to receive.
Twitter
users are far fewer than Facebook users. Each of the two platforms though serves a different purpose, and they are not direct competitors (from the user perspective). In fact, Facebook's user growth can benefit Twitter, because it is the reason why more internet users have become more receptive towards social media in general. Allow me to prove my point: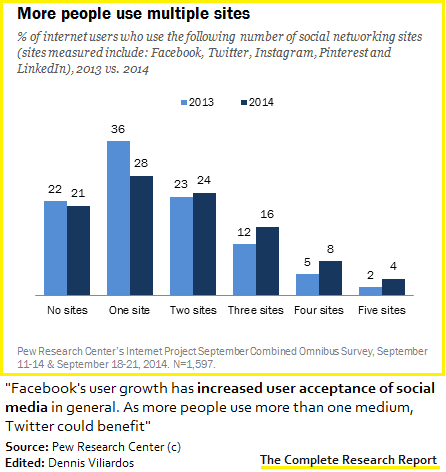 "More people use multiple sites" is the title of the graph. For Twitter, this means that users can be "shared" with Facebook. This is pretty much only possible between Twitter, Facebook, and LinkedIn, as none of them are direct competitors with each other (serve different purposes). Now, for Twitter to grow its users (via sharing), it needs to follow a strategy that best manages its Systemic Risk (as discussed in Part 2 of this series).
The
quality of user data that is being collected is another important aspect that will determine Twitter's share of the digital ads market.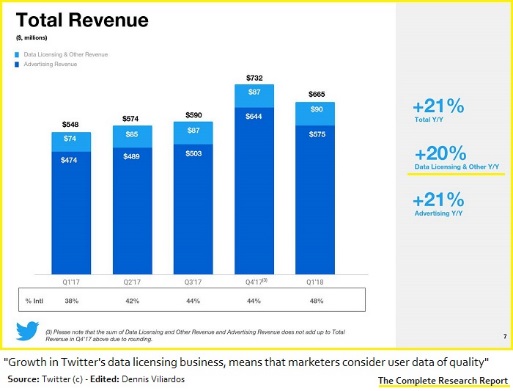 Fortunately, the thriving data licensing business speaks for itself: The quality of the data is high.
Moving on,
how marketers are using the platform also matters. Previously, we discovered that advertisers are mostly using Twitter for B2B campaigns. We also learned that the platform is frequently involved with B2C campaigns as well. Let's take a deeper look.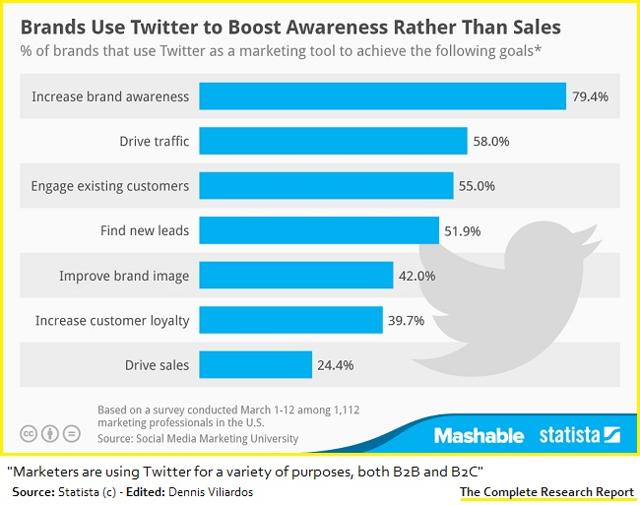 > Brands are mostly using Twitter to boost awareness and increase user engagement. This makes it evident that B2B campaigns will continue to dominate on the platform. Driving sales is mostly a B2C effort, and the percentage the graph attributes to such campaigns verifies that Twitter is considered to be more "professional". As such, Twitter might not reach its full revenue potential on a per user basis.
A final component that is directly related to Twitter increasing its share in the digital ad revenue pie is the
targeting and reporting capabilities of its ad platform.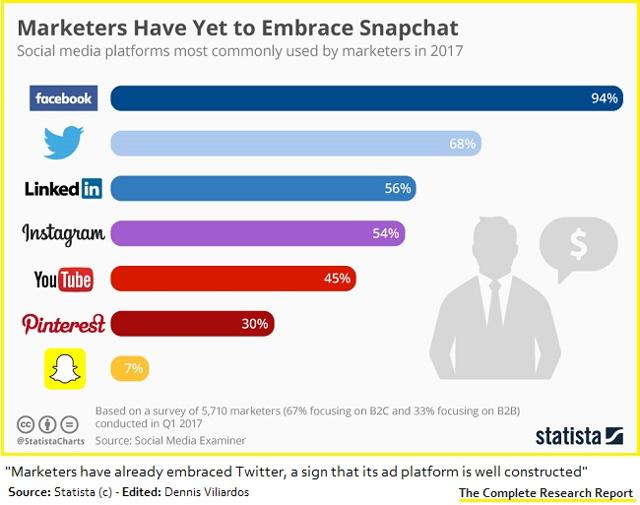 > The above graph shows that Twitter is engaging with the majority of digital marketers. This piece of information proves that the company's ad platform is considered to be at least "acceptable". And that means that if users were to increase, Ad revenues would follow suit since marketers have already "discovered" Twitter.
Now, what would happen if Twitter also managed to collaborate with traditional media on the basis of
digital subscriptions? Well, a third revenue source would be added to the platforms business model, granting it access to additional returns and allowing it to "exchange readers/users" with traditional media. But, is this possible?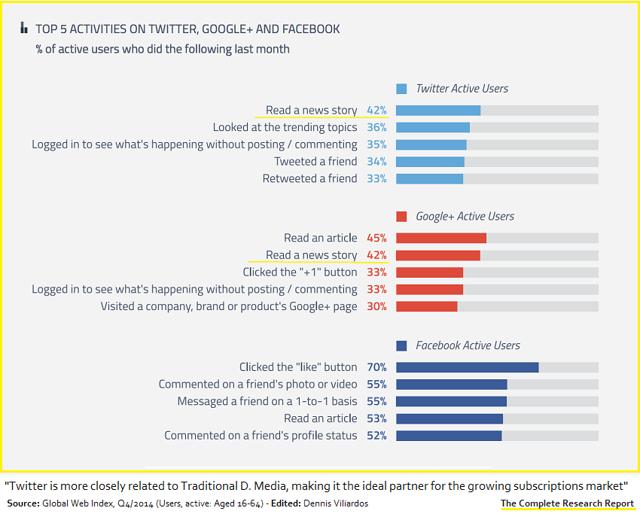 > The above graph shows that it is. In fact, Twitter is the ideal partner for the growing subscriptions market. Not only does the platform closely relate to traditional media's context, it also grants them the option to diversify their dependencies on other social media and tech companies (Facebook, Google).
The bottom line
Twitter seems to operate a distinctive product, which does not directly compete with Facebook or LinkedIn. Sharing users with these networks then is a realistic possibility. The fact that it is also involved with a growing revenue market (digital ads) and it being the ideal candidate for partnering up with traditional media on the basis of subscriptions means that long-term growth is not a far-fetched dream.
So far, so good then. In the next part, we'll talk numbers. We shall examine Twitter's financials (Revenue, Expenses, Profits, Margins, Cash reserves, Ratios) and check whether the company is "healthy" and has the necessary "backbone" to support additional growth. That would be the last part before constructing the Tracking list: A sort of a control room that will help us track whether Twitter is moving in the right direction through time. This will become a valuable tool for you who wish to stay with the company long term (myself included).
***
The Owl of Knowledge (In-text supplementary material)
[
#1] Is expanding internationally a prosperous venture for social media?
Well, that will depend on the European Commission and US lobbying skills. Here is what we know so far:
The European Commission released information on two new tax updates. It plans to impose a 3% interim tax rate on major digital companies (Twitter is among them) and also is preparing to introduce an updated version of the EU's comprehensive corporate tax laws.
The 3% interim tax is "charged" on revenues and is calculated on an annual basis. It is meant to only cover the very basic profitable operations of digital companies. A more comprehensive approach will follow.
To get a better understanding of what the European Commission is after, I've cut out a sentence from the corresponding press release:
…profits made through lucrative activities, such as selling user-generated data and content, are not captured by today's tax rules…
This could mean that new tax developments target both Twitter's data licensing business and digital ads business.
We should also address future risk relating to changes to the EU's comprehensive corporate tax laws. Here's another excerpt from the European Commission's press release:
…The new rules would ensure that online businesses contribute to public finances at the same level as traditional 'brick-and-mortar' companies...
Pretty scary. The current average effective tax rate for digital companies is 9.5%, almost half of what traditional companies have to pay. But an increasing tax rate (equal to that of traditional companies) is not the only thing Jack Dorsey needs to worry about. The European Commission has made it clear that "profits made through lucrative activities, such as selling user-generated data and content, are not captured by today's tax rules," which not only implies a higher tax rate but also additional taxation on revenues previously not included under the 9.5% rate - (excerpt from Part 2 of this series, " Twitter's Systemic Risk").
[
#2] What are old and new media?
Defining media can be confusing. There are many "name tags" available, and each one of them has a different meaning. The most prominent categorization is that of Traditional Media and Social Media. Traditional media include TV, newspapers, magazines, radio, but also websites. Social media on the other hand are pretty much the equivalent of online social platforms (media where users are also participants).
Social media are inherently online based. Traditional media on the other hand are not. They can include both a website and a newspaper. Another type of categorization will clarify this distinction: Old and new media. Here are the basic points I cut out of Wikipedia:
Old media: television, radio, and print media. New media: forms of media that are native to computers. Some examples of new media are websites, mobile apps, virtual worlds, multimedia and computer games. New media do not include analog television programs, magazines and books unless they contain technologies that enable digital generative or interactive processes. Facebook is an example of new media, part of the social media sub-category, in which most users are also participants. Another type of new media is Twitter. The digital side of the Financial Times (website) is also part of new media.

>Come join us

as we get to know the
World's most Prosperous Economies (US, Germany, Russia, China and more), its
Growing Industries and its
Best Companies (Large Caps and Small Cap ETFs). Expand your knowledge and insight horizons, through my Detailed Analysis & Research Reports, that range from 8 to 32+ pages.

Disclosure: I am/we are long TWTR.
I wrote this article myself, and it expresses my own opinions. I am not receiving compensation for it (other than from Seeking Alpha). I have no business relationship with any company whose stock is mentioned in this article.
Source : https://seekingalpha.com/article/4175008-twitter-oh-growth-potential-alright
Thank You for Visiting My Website