Snap Inc. (SNAP) kicked off the year with a good start, surging 40% at the beginning of the year. But its app overhaul soon caught up, bringing the stock down by more than 6%.
The plunge is a result of the stock sale of $50 million worth of shares by Snap's CEO, Evan Spiegal's on February 14, Citi's downgrade news and the redesign backlash from Snap's loyal userbase.
Wrapped under a code name 'Cheetah,' Snap unveiled its new redesign on November 29, 2017, via a 60-second video. Snap's CEO Evan Spiegel explained that the latest version of Snap separated the 'social' from the 'media', and divided Stories from Discover. He wrote, "We are separating the social from the media, and taking an important step forward towards strengthening our relationships with our friends and our relationships with the media."
In its Q417 earnings report this year, the company had said that Publisher Stories on Discover grew by over 40% in comparison to the old design. In addition, Snap mentioned that the redesign made the application simpler and easier to use, especially for older users.
In November last year, Snap Inc. introduced the changes to simplify its existing design for the users but instead made it harder for small advertisers to leave impressions. Though the overhaul was meant to be user and advertiser-friendly, for 1.2 million users it got 'annoying' and looked cluttered. TechCrunch reported that Snap's redesign in the beta countries (U.K, Canada, and Australia) faced severe criticism from the users.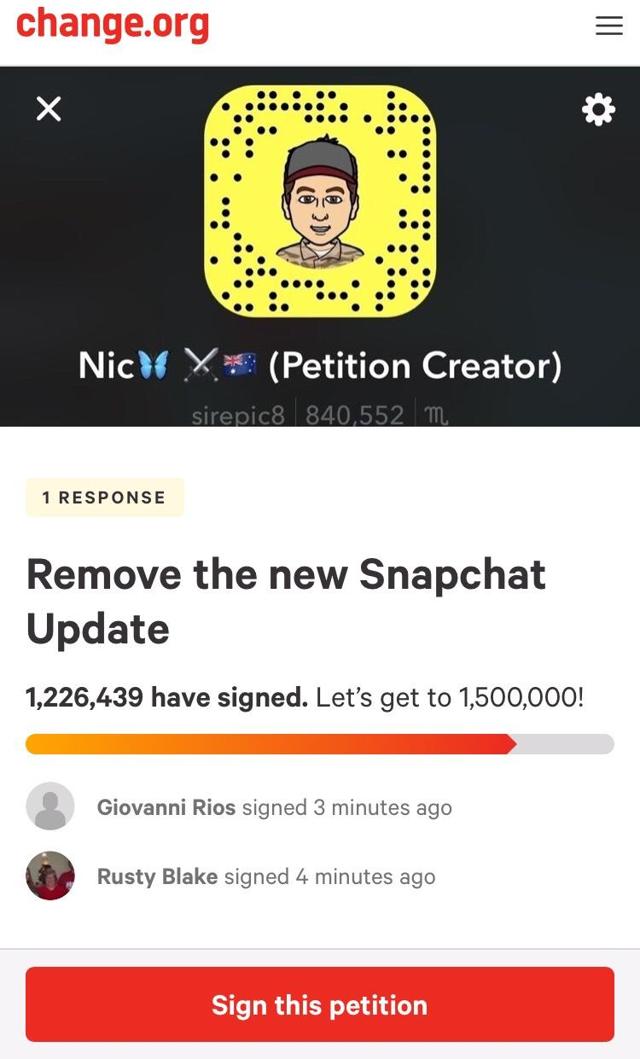 > Snap angered loyalists (which include millennials and celebrities) took to change.org to ask for the removal of the new Snapchat update. The petition so far has more than one million signatories. The petition reads "Many users have found that it has not made the app easier to use but has, in fact, made many features more difficult."
Snap made an official response to the petition and maintained its stance on the redesign. But also added that it will introduce "tabs in Friends and Discover, which will make it easier to find the Stories" that users want when they want them. Simply put, users will be able to sort things like Stories, Group Chats, and Subscriptions and customize their Snapchat experience.
The company has time and again made it clear that it will continue to make adjustments in its products over the next few quarters. But the worrying part is that so far, the changes have not been accepted by many of its users.
Snap's redesign model came a few months after its biggest rival, Facebook (FB) made similar changes. Following the new algorithm shift, Facebook shares tumbled 4% since many investors felt that the change could bring bad news impacting publisher's traffic. The changes to its news feed also led to a total of approximately 50 million fewer hours spent on Facebook every day.
Microblogging platform, Twitter (TWTR) is reportedly working on a video sharing too which may have Snap like features. In an interview with Recode, Twitter's CEO Jack Dorsey has acknowledged that Twitter's current experience as 'confusing' and praised Snap for being 'very modern'. In an attempt to make Twitter more appealing to users, Twitter may be following the route of Facebook and Snap. Bloomberg reported that according to the people close to the matter Twitter already has a working demo of the camera-centered product. Following the report, Snap shares had tumbled more than 5%, touching $13.72.
Bottom Line
The app redesign by social media platforms have been a departure from what the companies had promised to its users and for Snap, it has surely backfired.
Citi recently downgraded Snap's stock to 'sell' with $14 price target. Citi's Mark May said, "While the recent redesign of its flagship app could produce positive long-term benefits, the significant jump in negative app reviews since the redesign was pushed out a few weeks could result in a decline in users and user engagement, which could negatively impact financial results." Snap's shares fell more than 7% following the downgrade.
Citi added to its report a chart that showed the one-star rating of 28% in November 2017 jumped to 86% in February 2018, owed largely to the dissatisfaction of the users.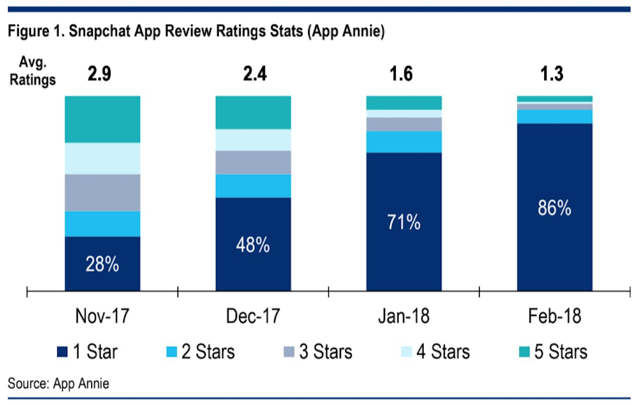 > In the short run, Snap faces a bumpy ride as the company is deeply scrutinized by its users. In the long run, it faces stiff competition from companies like Facebook and Twitter, as the two also switch gears and divide personal and advertised content.
In the past, Snap's CEO Evan Spiegel has acknowledged that there was a 'strong likelihood' that the redesign would be "disruptive to our business in the short term". "We don't yet know how the behavior of our community will change when they begin to use our updated application. We're willing to take that risk for what we believe are substantial long-term benefits to our business," he had said at the time of Q317 earnings report.
But while the company is willing to risk in for long-term benefits, investors need to remain very cautious.
With more than a million users (and still counting), the company remains adamant to introduce additional changes and maintains that "the community will enjoy it once they settle in." But for that to happen users need to remain engaged!
Disclosure: I/we have no positions in any stocks mentioned, and no plans to initiate any positions within the next 72 hours.
I wrote this article myself, and it expresses my own opinions. I am not receiving compensation for it (other than from Seeking Alpha). I have no business relationship with any company whose stock is mentioned in this article.
Source : https://seekingalpha.com/article/4149405-snaps-redesign-faces-backlash-loyalists
Thank You for Visiting My Website