The other group will call out the many times that the United States has not acted on its asserted ideals. The theologian Reinhold Niebuhr reminds us why this will always be so: "Hypocrisy and pretension are the inevitable concomitants of the engagement between morals and politics," he wrote, adding, "They do not arise where no effort is made to bring the power impulse of politics under the control of conscience." American leaders after Trump do not need to make categorical claims that place values above every other consideration. They should be more honest and more precise, but no less proud. Values have been a genuine consideration in the weighing of interests, and the U.S. has tried far more than other great powers to take them into account. This is rare and impressive enough. Proceeding from this basis, a new American exceptionalism can more consistently, if more modestly, secure a place for values in the conduct of foreign policy.
VIII. The Black Box
Some argue that the United States is fractured beyond repair—that Donald Trump is destroying American credibility and, with it, all possibility of renewed American leadership. Some also contend that you can no longer make arguments to the American people based on higher purpose—they are too angry or too cynical.
---
>
Related Stories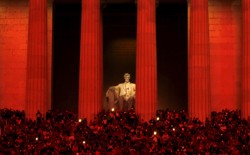 >
---
I see it another way. Let's not forget that, throughout American history, the path forward has been determined not in times of disruption but in their aftermath. The New Deal followed the Great Depression, just as the Marshall Plan followed the Second World War. When Donald Trump exits the White House, the United States will once again have a chance to chart a new course. Its friends will not give up on the country in the interim, at least not until the next election clarifies whether Washington's abdication is the work of a rogue president or the will of the country. They want to be America's partners. As for the American people, I believe that they would welcome a renewed form of exceptionalism that addresses their concerns, speaks to their aspirations, and restores confidence that their country can be a force for good in the world.
America as a force for good in the world—who talks like that anymore? Is this all just the "gaudy mumbo jumbo of politicians," as Robert Hayden put it in his poem "Frederick Douglass"? Well, I believe we should talk like this. Our greatest leaders through history talked like this. And America's most principled critics, like Douglass himself, have been among its greatest patriots. They understood, as we must, that American exceptionalism is not a description of reality but the expression of an ambition. It is about striving, and falling short, and improving. This is the essence of a patriotism that every American can embrace.
Reclaiming America's place in the world will be an extraordinary challenge. For decades, the country neglected needed updates to the international system. Now Donald Trump is blowing that system up. The saying goes that when a natural disaster hits, "build back better." The same applies to foreign policy. Not since 1945 has the U.S. had the chance to go back to basics and decide which parts to keep, which to scrap, and, above all, which to reinvent. After Trump, it can do just that.
When I was Joe Biden's national-security adviser, we paid a visit to Lee Kuan Yew, the former prime minister of Singapore, who expressed admiration for America's famed "black box."
"Black box?" Biden asked.
"You know, the black box that the Americans have buried that contains the secret for how they can constantly reinvent themselves."
We need to find and unlock that black box.
---
This article appears in the January/February 2019 print edition with the headline "Yes, America Can Still Lead the World."
Source : https://www.theatlantic.com/magazine/archive/2019/01/yes-america-can-still-lead-the-world/576427/
Thank You for Visiting My Website
Check Out Our New Products !